by Rossana De Lorenzi
Experiences at EMBL Rome led former group leader to establish his start-up in Italy, developing a new generation of gene therapies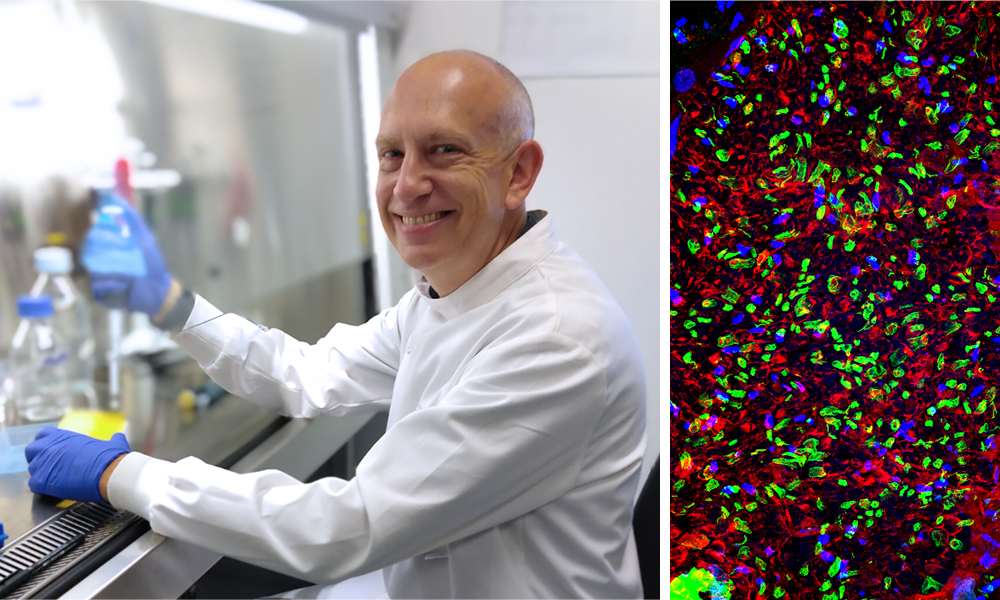 Technologies and methods developed for fundamental research are often considered to be solely for academic purposes – aimed at building knowledge instead of products. Yet, in many cases, the knowledge gained can have direct and unexpected applications.
Paul Heppenstall's story illustrates this: during his time at EMBL Rome he developed a technology that would allow easier and more efficient delivery of genetic material into mammalian cells, as a strategy to treat neuropathic pain. The new technology also offered opportunities for clinical applications, as it could be translated into a new approach for gene therapies. This convinced Heppenstall to invest in Italy and explore the clinical potential of his research by founding the company Borea Therapeutics in Milan.
Heppenstall moved to Italy in 2008 to study the molecular mechanism underlying pain. At that point, the experienced neuroscientist, who completed a PhD in the UK, already led his own research group in Germany. At EMBL Rome he continued his work looking for molecular targets to manage pain and itch associated with conditions such as neuropathy, dermatitis, and other genetic skin disease.
Towards a therapy for chronic pain
While at EMBL Rome, the Heppenstall group made important contributions to the field of somatosensation – the perception of stimuli coming from the skin – by identifying populations of nerve cells in the skin that contribute to neuropathic sensations in mice. The group then developed a light-sensitive chemical that binds only to those particular cells while preserving the functionality of nearby neurons that transmit other sensory stimuli. When near-infrared light is shone onto skin injected with this chemical, the nerve cells causing itch retract, which leads to long-lasting relief.
Heppenstall started to explore potential clinical applications of his discoveries. He believed they could offer novel therapeutic options to patients affected by chronic pain – a condition that severely affects quality of life and has few effective therapies, which led him to decide to set up a company. In doing so he received advice and guidance from EMBLEM, EMBL's commercial arm, which supports researchers through the technology transfer process.
Settling down in Italy
The result: in 2020 Heppenstall and EMBLEM co-founded Borea Therapeutics to develop a platform of next-generation viral vectors for targeted gene therapy. The modified vectors operate around two key principles: increased efficiency and safety. The same year the company received seed financing from Sofinnova Telethon Fund, the largest venture capital fund in Italy dedicated entirely to biotechnology.
"All the key experiments that allowed Borea's foundation were done at EMBL with support from the EMBL facilities," said Heppenstall. "We had many conversations with the Genetic & Viral Engineering Facility at EMBL Rome to start the experiments, and we are still collaborating with the Protein Expression and Purification Core Facility at EMBL Heidelberg."
Borea's research activities are performed in collaboration with the Scuola Internazionale Superiore di Studi Avanzati (SISSA), a scientific centre of excellence in Trieste, where Heppenstall obtained a professorship in 2018 and currently runs a research group.
The EMBL model
Looking back at his time as a group leader at EMBL, Heppenstall recalls how EMBL's research infrastructures and scientific expertise were key to setting up his own company.
"I have good memories of my time at EMBL. You have the feeling that everything is possible there, with fantastic administrative support that enables you to focus on your research like nowhere else. My strongest advice to other EMBL scientists is to make the most of their time there – even setting up a company! – because you have all the support by EMBL and EMBLEM that you need. That really shows that the EMBL model works, because of the people."
---