DeepMind Chief Executive visits EMBL Heidelberg to discuss current and future implications of Artificial Intelligence for life science research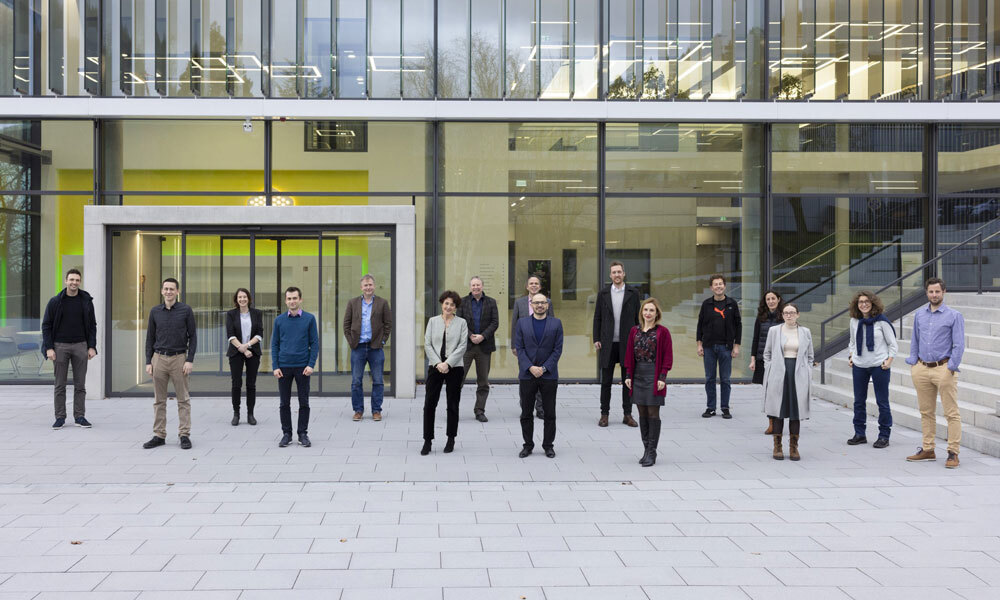 AlphaFold is an Artificial Intelligence (AI) tool that predicts protein structure from sequence. In July 2021, DeepMind and EMBL-EBI made the AlphaFold database public and freely accessible to users worldwide. By the beginning of 2022, the curated database had grown to contain one million protein structure predictions, and the ability to predict protein structures from amino acid sequences was coined scientific breakthrough of the year 2021.
Scientists at EMBL have used structural biology approaches to reveal, probe and manipulate protein structures for many decades. With the launch of the AlphaFold Protein Structure Database, EMBL researchers have also begun to explore how the AI tool can drive new approaches and understanding of protein structure and function.
Following the successful collaboration on the AlphaFold database, a delegation from DeepMind visited EMBL Heidelberg to learn more about EMBL research and services, and to discuss with scientists potential future directions in the application of AI in the life sciences.
During the visit, DeepMind founder and CEO Demis Hassabis, and AlphaFold team lead John Jumper, explained their work to develop AlphaFold as a new deep learning-based system. From the first steps towards developing the methodology and underlying machine learning ideas to the immense implications for molecular biological research now and in the future, Hassabis and Jumper shared their story and the inspiration behind AlphaFold.
"This is an incredibly exciting new era in digital biology, and AI is a powerful tool for accelerating scientific discovery. Our partnership with EMBL on the AlphaFold Protein Structure Database has been a wonderful and extraordinarily fruitful collaboration, and we have enjoyed this opportunity to brainstorm future ideas together," Hassabis said.
Ewan Birney, EMBL Deputy Director General and EMBL-EBI Director, added: "The cooperation with DeepMind on AlphaFold has really been successful, and we want to extend that collaborative spirit between EMBL and DeepMind to more parts of EMBL. Artificial intelligence is a game changer and will fast-track biological discoveries in various ways in the years to come."
"It was a great pleasure to host the DeepMind team," said EMBL Director General Edith Heard. "EMBL is proud to have helped ensure the AlphaFold tool was made freely available, and are looking forward to the next developments in AI-assisted research."
RELATED LINKS