by Ivy Kupec
An EMBL roundtable brought together high-level representatives from government, industry, and academia to explore how to leverage the power of AI and machine learning for life sciences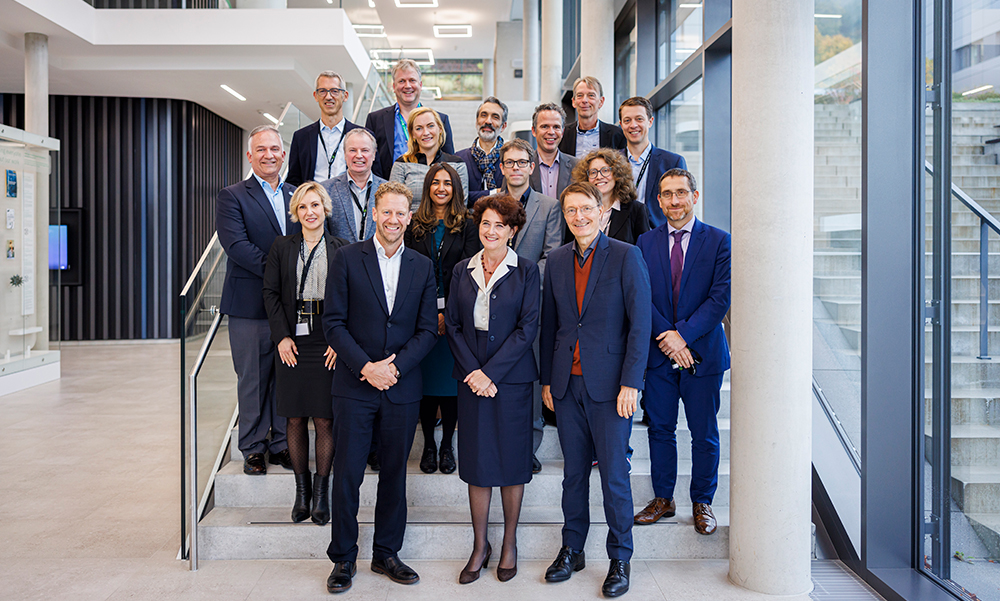 From predicting the 3D structures of proteins, deciphering molecular data and biomedical images, and the design of new drugs to understanding ecosystems across space and time – artificial intelligence (AI) and machine learning tools are revolutionising life science research and biomedical applications. They provide invaluable new approaches for scientists in solving the fundamental quest of understanding how living things work.
Europe – and specifically EMBL – play distinctly pivotal roles to ensure that life science research benefits from these new possibilities and technologies, bringing together disciplines and sectors to catalyse and drive discovery and innovation.
This week, EMBL hosted Germany's Federal Minister for Health Professor Karl Lauterbach, the UK's Parliamentary Under Secretary of State at the Department of Health and Social Care Lord Nick Markham CBE, as well as representatives from the World Health Organisation, the UK Medical Research Council, and senior leadership of the Instituto Italiano di Technologia, Google DeepMind, and GSK, to discuss opportunities and challenges of harnessing AI in the life sciences.
The discussions explored the potential impact of AI advances in the life sciences with applications in pharmaceutical and healthcare sectors. In addition, participants discussed how these opportunities could be realised within and for Europe, maximising existing strengths and connections in local, national, and international settings.
"AI is a powerful tool that will continue to fast-track scientific discovery and have real-world impacts, such as in precision medicine," said Edith Heard, EMBL's Director General. "Over the past decade, the life sciences have been transformed by the presence of cheap, scalable technologies that can generate unprecedented volumes of data. AI technologies will be an essential tool to fully exploit such complex data for solutions to everyday challenges. They will become key drivers of innovation across many areas of the life sciences. This is why exchange between academia, industry and policymakers about this topic is becoming ever more important."
"As Europe's life sciences research organisation, EMBL possesses unique expertise, technology, and partnerships to lead the discussion that prioritises where Europe can most quickly and effectively make inroads with AI to address short- and long-term human and planetary health challenges," Heard added.
At this week's meeting at EMBL Heidelberg, the participants looked at ways to leverage existing strengths and synergies to ensure Europe is a global leader for AI in life sciences. This also included bioethical considerations, such as ensuring diversity in data sets to train AI models and non-discriminatory modelling.
Accelerating life science research through AI tools
Under its current scientific programme, 'Molecules to Ecosystems', EMBL plans to advance the study of life in its natural context and explore at the molecular level how organisms respond and adapt to changing environments. In doing so, EMBL is using fundamental science to make new discoveries and rise up to societal challenges in human and planetary health.
EMBL accelerates life science research and innovation by powering AI tools through the open provision of ready-to-use life science data, and by developing new AI approaches to accelerate scientific discovery. EMBL has already been incorporating AI extensively across its missions:
Driving biological discovery science. EMBL is an established player in developing and applying AI tools to address questions in life sciences, with research spanning all biological scales, from the molecular, cellular, organismal, and population levels. EMBL advances and uses AI methods in three research areas: structural biology, imaging, and genomics. These will enable scientists to gain an even better understanding of the complex biological systems that underpin life and use that knowledge to inform solutions that benefit human and planetary health.
Providing large-scale open biological data as enabler for AI. For more than three decades, EMBL's European Bioinformatics Institute (EMBL-EBI) has been storing, curating, and making biological data generated by the scientific community openly available to everyone. This invaluable data resource covers the length and breadth of biological fields, systems and technologies. EMBL-EBI's big data repositories are openly accessible and have long been used as training data to develop computational algorithms.
In the era of AI, these data will provide unique opportunities to develop, train, and rigorously test AI-based approaches to tackle pertinent challenges in fundamental research and biomedicine. A prime example is the recent development of AlphaFold by Google's DeepMind, which used the Protein Data Bank (housed at EMBL-EBI) to develop and train its algorithms. DeepMind also partnered with EMBL-EBI to make its AlphaFold protein structure predictions freely and openly available to the global scientific community.
Advancing innovation and translation. EMBL is extensively engaged in translational research and commercialisation. AI has wide applications here, as evidenced by Open Targets, a drug-discovery consortium led by EMBL-EBI with six partners in the pharmaceutical industry that focuses on drug target identification and prioritisation.
"EMBL brings together research communities and fosters new collaborations. Data science is a centrepiece of our 'Molecules to Ecosystems' programme and will enable a new era of AI in biology," Heard said. "With the power of collaboration and connections across Europe and beyond, it will be exciting to see how meetings like this – and obviously the follow-on research and future evidence-based policy decisions – can slingshot science and technology toward practical applications that benefit science and society."
---