EMBL Imaging Centre job shadowing programme shares customised world-class microscopy expertise, empowering scientists in Europe and beyond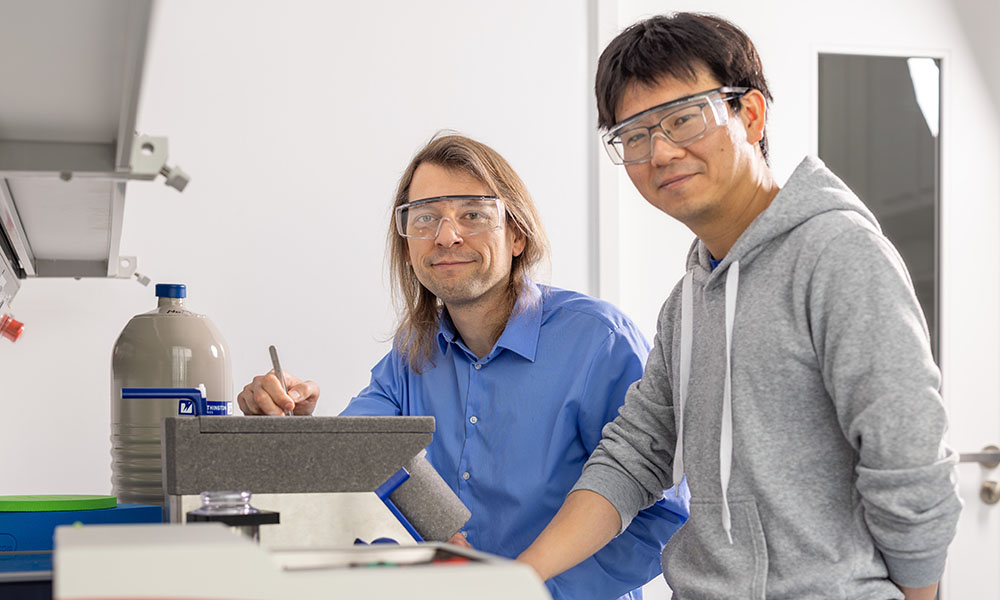 In the world of super-resolution fluorescence microscopy, MINFLUX is providing a new level of detail to molecular biology pursuits.
It can resolve biomolecules only nanometres apart. It can even capture rapid biological movements at this very discrete level, such as molecules moving within a living E. coli bacterium. But something this powerful microscope can not do is train scientists to harness its incredible capability.
That's where EMBL and the EMBL Imaging Centre step in.
Home to some of Europe's foremost cutting-edge tools in molecular biology, EMBL has long shared its expertise and access to these tools through an extensive repertoire of courses, conferences, seminars, and other training. And now included in this mix is a job shadowing programme at the EMBL Imaging Centre (EMBL IC) aimed at 'training the trainers'.
While academic papers and conferences can offer a window into the latest scientific technologies, the EMBL IC job shadowing programme provides up to three months' stay at EMBL, with a mix of observation, consultation, and hands-on experience.
"Right now, there are only a handful of facility MINFLUX systems in the world," said Virginia Pierini, EMBL IC service manager, noting how other instrumentation and expertise also attract scientists to this individualised training approach. "We are in a unique position to share a variety of expertise on some of the very best microscopes, but also techniques that have been honed here at EMBL and workflows that might improve services elsewhere."
After the EMBL IC opened in 2022, the staff provided this kind of advanced training to four visitors who came from Sweden, Switzerland, the United States, and Singapore. The programme continues on in 2023, overseen by Pierini, and with Zhengyi Yang, an EMBL cryo-electron tomography specialist, serving as guide, trainer, and liaison for visitors to meet other EMBL experts.
"Job shadowing and this intensive training of staff who come from other international imaging facilities and large labs are part of a programme that aims to accelerate the use of new service workflows and new imaging technologies," Pierini said. "The training we offer is unique because it focuses on correlative technologies, meaning we use several different methods of light or electron microscopy to analyse the same cell or tissue and combine these different perspectives."
Maxing the MINFLUX knowledge
For Hans Blom, Head Staff Scientist at the Advanced Light Microscopy facility at Sweden's National Life Sciences Laboratory (SciLifeLab), a visit to EMBL in 2022 meant he could get hands-on experience with MINFLUX, which his facility then purchased this year.
"It was only two days in November when I pursued my MINFLUX visit, but having that one-on-one training by an expert (and very long days) – it was effectively like a normal weeklong course," Blom recalled.
Part of Blom's team specialises in super-resolution fluorescence microscopy support for national and international user projects. SciLifeLab – in conjunction with his facility's academic host, the Royal Institute of Technology (KTH) – had provided funding beforehand to buy a MINFLUX platform to complement and extend its other super-resolution microscopy systems. This is why Blom wanted to learn more specifically about the MINFLUX technique and get preliminary training on the system while receiving tips for conditions to help it work optimally when it arrived at his own facility.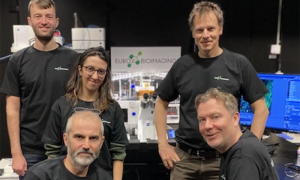 "In the last few years, I have followed the development of MINFLUX. I have been interacting with research colleagues in both Sweden (KTH) and Germany (University of Jena and University of Göttingen), who are applying and developing the MINFLUX technique further." Blom said. "This research interaction is great, but to do the harder task of providing external support with advanced techniques, train-the-trainer education is crucial. Facility support with any advanced technique demands consistency of support on all levels to many non-experienced users. Only by learning from experienced facility staff experts does one get the necessary augmented know-how and skills to be prepared to do a good service job."
As a facility head, Blom follows most international imaging facilities and networks to interact as much as possible with fellow staff scientists, noting that this kind of engagement is crucial to continuously advance support for external users.
"Any job shadowing or train-the-trainer initiative is extremely helpful," he said. "It both raises the quality of support as well as democratises its use."
Expanding the range of methodologies
While MINFLUX is definitely one of the newer imaging technologies, other scientists like Thorsten Blum have also come to EMBL, focusing on a broad range of cryo-electron microscopy (cryo-EM) methods.
A cryo-electron microscopist in the Volodymyr Korkhov group at the Paul Scherrer Institute (PSI) in Switzerland, Blum's EMBL experiences of learning and experimenting with state-of-the-art techniques will also benefit other scientists at PSI. He has been at EMBL for the past three months.
"To be able to learn about the various methods by literally looking over the shoulders of experts and even being able to do my own processing with the help of experienced colleagues, sounded very appealing to me," said Blum.
He has been deepening his knowledge in sample preparation in two different ways: writing patterns for cell arrangement on electron microscopy grids and focused ion beam milling. Ion beam milling produces thin slices of cells that are hundreds of nanometres in thickness. It allows researchers to achieve sub-nanometre resolution in their imaging and to better observe cells in their native states when using transmission electron microscopy.
Blum's experiences at EMBL also have focused a lot on data acquisition workflows and different ways to make sure the data obtained are high quality as well as high throughput. This was supplemented by seeing data processing strategy options employed in different research groups, particularly those of Simone Mattei and Julia Mahamid, EMBL Team Leader and Group Leader, respectively. He has also been able to try out some of the newest data processing software at EMBL.
"EMBL Imaging Centre, other facilities, and labs are impressive on their own, having some of the latest technologies," Blum said. "Additionally, there have been demos and visits from engineers from the centre's industry partners [Leica Microsystems, ThermoFisher Scientific, Carl Zeiss Microscopy, Abberior Instruments, CryoSol-World] who provided useful discussions. So, the knowledge transfer is impressive on both sides."
Blum looks forward to applying new techniques to his work at PSI, such as the high-pressure freezing protocol for sample preparation.
"I want to test a new protocol for data collection on our microscopes, and after my stay, I will have a pipeline for subtomogram processing. I am now quite eager to install on our cluster the software I've used here," he said. "Before coming, I had imagined EMBL to be at a very high standard. In reality, it turned out to be even more impressive, providing a way to return home with ways to implement a framework for projects that can be adapted for specific needs."
Developing better workflows
Ann Tran Bich Ngoc was EMBL's first participant in the job-shadowing programme – a testament to the EMBL Imaging Centre's worldwide reputation as the place to learn about cutting-edge imaging. Coming from Nanyang Technological University, Singapore, she is involved in managing the cryo-EM facility there and provides training in techniques related to sample preparation and imaging.
"EMBL Imaging Centre houses a full range of state-of-the-art cryo-EM equipment and highly capable scientific staff – a place where I could accelerate my learning in both instrument operation and setup/maintenance, which certainly benefits our users," she said.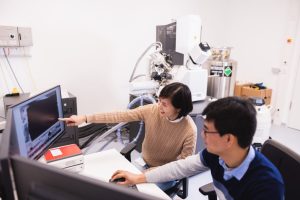 A key training goal was to explore alternative workflows that might help Ngoc manage her facility more efficiently. "We've now applied some technical advice I got at EMBL into our experiments," she said. "Likewise, some workflow suggestions have also been helpful, especially with respect to sample preparation, data acquisition, and data processing for single particles and tomography."
Ngoc added, "by following Anna Steyer (cryo-tomography specialist) and Zhengyi Yang as they did their experiments, and engaging in them, I really could learn more about how to handle different types of samples, optimise sample preparations, acquire good data, and engage in troubleshooting."
Yang, who has guided two of these visiting scientists' experiences, sees the programme as being useful to EMBL in many ways.
"The experience provides for a fruitful information exchange. I really enjoy being involved in it," Yang said. "The knowledge exchange benefits both sides. We also get to learn how the workflow is implemented in other institutes. All in all, it's the kind of exchange that just makes the scientific process better."
To inquire about participation in this programme, contact the EMBL Imaging Centre at ic-contact@embl.de.