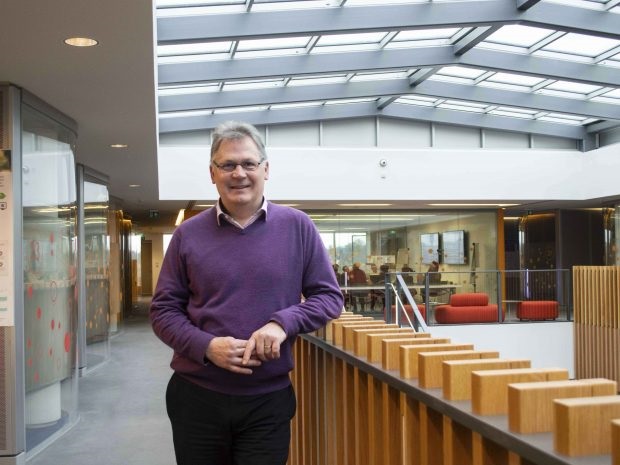 Ian Dunham set to lead drug target identification initiative Open Targets
Open Targets has appointed Ian Dunham as its new Director. Dunham will focus on delivering the Open Targets' research programme to exploit advances in genetics for drug target identification. He also aims to increase the use of new approaches to the programme, including single-cell sequencing, CRISPR and artificial intelligence.
Open Targets, launched in 2014, is the public-private partnership between EMBL's European Bioinformatics Institute (EMBL-EBI), the Wellcome Sanger Institute, GSK, Biogen, Takeda, Celgene and Sanofi. The initiative aims to transform drug discovery through the systematic identification and prioritisation of targets.
Ideally placed for innovation
"Open Targets is ideally placed for innovation," says Dunham. "We have built strong partnerships and established powerful research programmes that exploit advances in genetics and genomics to improve drug target identification. We're now tapping into the expertise of the Wellcome Genome Campus and our partners to bring other new technologies to our research. Some of the more promising directions include single-cell sequencing, gene editing and artificial intelligence."
Dunham has been the Scientific Director of Open Targets since 2014. He played a pivotal role in establishing the initial research programme and oversaw new projects initiated by Open Targets. These include experimental projects in oncology, neurodegeneration, immunity and inflammation.
A growing collaboration
Before joining Open Targets, Dunham held several roles at EMBL-EBI. His research areas included genome-wide mapping of regulatory elements and chromatin state in the human genome. He was also an integral part of the NHGRI ENCODE project, which focused on identifying all functional regions of the human genome, regardless of whether they formed genes or not. Dunham's interest in mapping the human genome has been a recurring theme throughout his career.
"Open Targets is an excellent example of how computational and experimental researchers from different backgrounds and sectors can collaborate to improve drug discovery," concludes Rolf Apweiler, Interim Head of Open Targets and Joint Director of EMBL-EBI. "I am delighted to see Ian stepping up to lead the collaboration. His expertise in genetics, genomics and his involvement with the project from its inception will be invaluable in developing the collaboration even further."
This post was originally published on EMBL-EBI News.