by Oana Stroe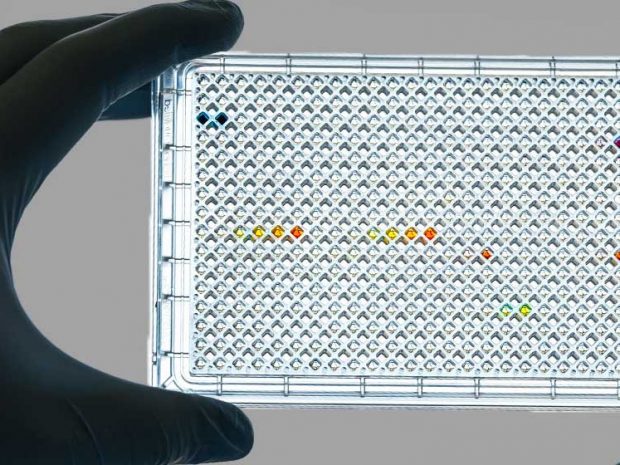 CRISPR screen prioritises hundreds of genes for personalised cancer treatment
Researchers at the Wellcome Sanger Institute, Open Targets, EMBL's European Bioinformatics Institute (EMBL-EBI) and collaborators used CRISPR technology to disrupt every gene in over 300 cancer models. The results revealed thousands of genes that are essential for cancer survival, meaning they could be good candidates for cancer therapeutics.
The researchers also developed a system to prioritise and rank the drug targets identified. The results, published in Nature, could accelerate the development of targeted cancer therapeutics.
Precision cancer treatments
The research is part of a wider project, called the Cancer Dependency Map, which aims to create a detailed rulebook for the precision treatment of cancer.
For the current study, the researchers conducted one of the largest CRISPR screens of cancer genes to date, disrupting nearly 20,000 genes in over 300 cancer models from 30 cancer types to uncover which genes are critical for cancer survival. The team focused on common cancers, such as lung, colon and breast, and cancers of unmet clinical need, such as lung, ovarian and pancreatic, for which new treatments are urgently needed.
Guidance at a genome-scale
"To give a new drug the best chance of succeeding in the very final phases of clinical trials, it is crucial to select the best and most promising drug target at the beginning of the drug development process," said Francesco Iorio, Principal Staff Scientist at the Wellcome Sanger Institute and Open Targets. "For the first time, in a data-driven way, we provide guidance at a genome-scale on which new therapeutic targets should be put forward for the development of new anti-cancer drugs."
It is expected that the collaborations between researchers, at Sanger and EMBL-EBI, and pharmaceutical companies within the Open Targets partnership, will bolster the translation of these research results into new treatments.
"The research published in Nature today is the first fruition of a key strategy for Open Targets, using high throughput gene editing by the CRISPR-Cas9 system to identify new drug targets, not only in cancer but in future in our other key therapeutic areas of neurodegeneration and immunity," says Ian Dunham, Director of Open Targets. "This paper reveals a rich source of targets for potential intervention in cancer either directly or in combination therapies with existing drugs."
Read the full press release on the Wellcome Sanger website.
Visit the Open Targets website.
SOURCE ARTICLE
BEHAN, F.M., et al. (2019). Prioritisation of oncology therapeutic targets using CRISPR-Cas9 screening. Nature. Published online 10 05; DOI: 10.1038/s41586-019-1103-9