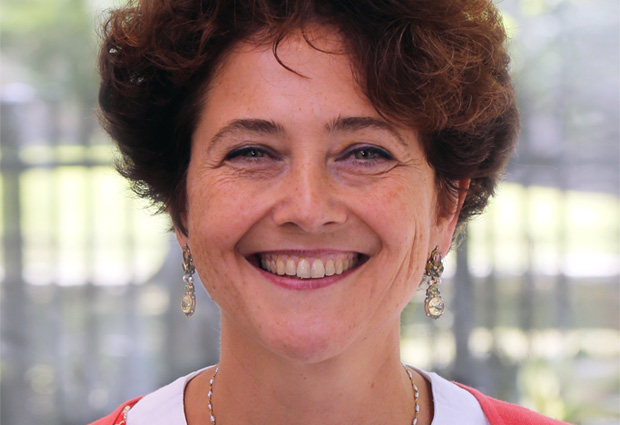 On January 1 2019, Edith Heard takes up the position of EMBL's Director General
To start the year, EMBL welcomes Edith Heard as its new Director General. Heard was unanimously elected by the EMBL Council and becomes the fifth Director General in EMBL's 45-year history. Heard succeeds Iain Mattaj who has stepped down after 14 years in the role.
"I am extremely honoured to serve European science as Director General of EMBL," says Heard. "As a deeply committed citizen of Europe, I will endeavour to promote the scientific excellence and service to the scientific community that characterise EMBL. I intend to work very closely with all sites and all parts of the organisation to utilise and realise the many strengths that EMBL has."
Heard takes up the position after eight years as the Director of the Genetics and Developmental Biology Unit at the Institut Curie in Paris, France. In 2012, she was also appointed as a Professor of the Collège de France, a position which she retains.
This is a time of tremendous opportunity in science, and for biology in particular
As a group leader at the Institut Curie, Heard focused on understanding X-chromosome inactivation (XCI), the epigenetic process whereby one of a female's two X chromosomes is silenced during development. The discoveries that Heard and her group have made have been recognised by many prizes, most recently the Inserm Grand Prix and the European Society for Human Genetics prize, both in 2017. Heard will continue to lead her research group at EMBL and will focus on understanding how chromatin and chromosome organisation participate in gene regulation.
As Director General, Heard would like to build on the current programme of exciting research at EMBL while moving towards a deeper understanding of how biological populations interact and change, particularly in the context of their environments. "This is a time of tremendous opportunity in science, and for biology in particular," says Heard. "I believe that EMBL can play a critical role in demonstrating the power of science to provide change for the better and to build bridges between nations and disciplines."
This post was originally published on EMBL News